Sponsored Content
Get ready to encounter the wonder!
This summer at the Ark Encounter, experience the jaw-dropping 510-foot-long reconstruction of Noah's ark, built according to the biblical dimensions. This life-size Ark is the largest freestanding timber-frame structure in the world, and it is an architectural marvel! Inside, guests tour three decks of world-class exhibits—including sculpted animal pairs, animatronic people, Noah's family living quarters, and more. And children ages 10 and under receive free admission in 2023!
The outdoor playground at the Ark Encounter
Outside the Ark, guests explore the gorgeous grounds and meet exotic animals such as kangaroos, sloths, a binturong (bearcat), lemurs, camels, and more at Ararat Ridge Zoo. Kids love the unique playground—designed with children of all abilities in mind—featuring towering slides, climbing surfaces, swings, and a rainbow maze. And guests of all ages can enjoy a free ride on a custom indoor carousel and "meet" the animal kinds journeying to the ark.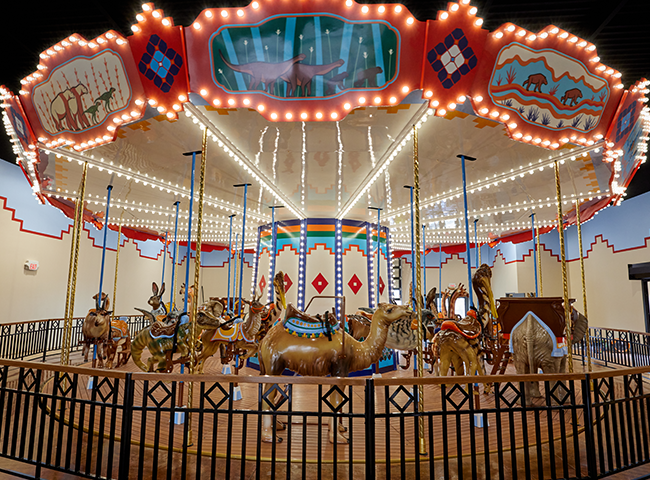 The indoor carousel at the Ark Encounter
At the massive state-of-the-art Answers Center auditorium, videos, live presentations, and concerts take place throughout the day. Guests love singing along with resident artists TrueSong, learning from dynamic Answers in Genesis speakers, meeting ambassador animals during engaging zoo presentations, and so much more.
For an additional ticket purchase, guests can ride or feed a camel or mine for fossils or gems in the mining sluice. Guests can also enjoy Truth Traveler: A Virtual Reality Experience and travel back in time to experience the building of the ark, loading of the animals, and the rainbow after the flood. Special seats full of surprises and state-of-the-art VR headsets wow guests as they enter a spaceship for their epic journey.
The most adventurous can zip over the trees, soaring down thousands of feet of zip lines in the stunning valley beside the Ark with Screaming Eagle Aerial Adventures. Ten of these mega zip lines are 1,000 feet or longer! You can also make a leap of faith off the 80-foot free-fall tower or climb the aerial adventure course. Tours may be booked in advance or upon arrival.
Zipline at Screaming Eagle Aerial Adventures
Delicious food and drinks can be found throughout the grounds. A favorite of guests, Emzara's Kitchen features an expansive buffet loaded with popular options such as fried chicken, roast beef, fresh salads, creamy mac and cheese, garlic potatoes, and mouthwatering desserts. Guests can also enjoy smoky meats, wraps, paninis, freshly made fudge, cookies, specialty coffees, and more at the Ark's other food venues.
40 Days and 40 Nights
The world's largest Christian music festival is back at the Ark Encounter from August 1­–September 9, 2023. At 40 Days and 40 Nights of Gospel Music, award-winning southern gospel, faith country, contemporary, and faith & worship music artists will perform over 120 concerts—all included free with general Ark admission.
The Ark Encounter is visited daily by thousands of guests, and they leave raving reviews. It's truly an experience like no other!
The Ark Encounter is fully wheelchair accessible (with wheelchair and scooter rentals available) and family friendly. The Ark Encounter is located in Williamstown, KY, directly off I-75 exit 154. Learn more, find a nearby hotel, and get your tickets today at ArkEncounter.com.