Sponsored Cotent
Built according to the dimensions specified in the Bible, the 510-foot-long Ark wows guests at first sight with its enormous size and exquisite craftsmanship. Inside the Ark, three decks of exhibits show what life on Noah's ark could have been like and explore topics such as ark design, animal kinds, flood geology, the ice age, the origin of nations and languages, and more. Think bigger and prepare to have your questions answered about the global flood account recorded in Genesis.
And the experience doesn't end with the Ark itself! There is much more to see and enjoy around the Ark Encounter grounds. Guests can also attend live animal presentations by zoo staff and view the exotic animals in the Ararat Ridge Zoo—including kangaroos, a binturong, African crested porcupines, a two-toed sloth, ring-tailed lemurs, and many more! The lush Rainbow Gardens provide a beautiful setting for a relaxing stroll or a place to rest between activities. Children and adults alike can enjoy the one-of-a-kind themed carousel, riding on a T. rex, giraffe, Quetzalcoatlus, or another custom-made representative of a biblical kind. And a variety of dining experiences—from the popular Emzara's Kitchen to coffee shops, cafés, and outdoor dining venues—supply guests with plenty of opportunities to refuel throughout their visit.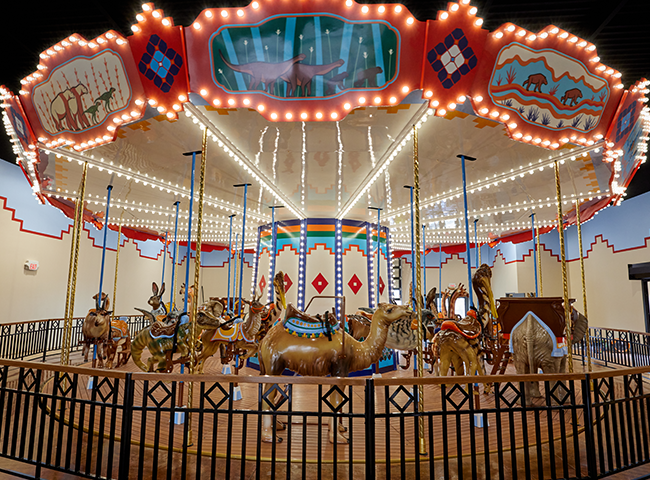 The Answers Center, located at the shuttle pickup/drop-off site, is a great place for visitors to get off their feet and experience a rotating schedule of presentations. Among the typical offerings—which vary by day and season—are concerts by the Ark Encounter's resident artists, TrueSong; dramas; live family-friendly presentations by experienced speakers and scientists; and short films.
And if all that isn't enough, there are add-on activities as well, including the Screaming Eagle Aerial Adventures (offering zip-lining, free falls, and aerial courses), a VR experience, Camel Encounters, and Camel Rides (for guests 17 and under).
For more information, visit ArkEncounter.com and ArkEncounter.com/groups.
Considering coming later in the year? Don't miss one of the Ark Encounter's most anticipated annual events — ChristmasTime!
ChristmasTime at the Ark Encounter begins November 24 and runs each Tuesday through Saturday evening until December 30. View the Ark illuminated in gorgeous rainbow lights, experience the Amazing Animals Program, attend Christmas-themed programs and concerts, enjoy holiday dining and festive treats, and walk through a dazzling array of Christmas lights adorning the Ark grounds!
And if Christmas shopping is on the agenda, the Ark Encounter is a great place to get that done too! With a large selection of resources for all ages, unique gift items, and an extensive Fair Trade market, the Ark Encounter gift shops are brimming with options to cover everyone on your gift list!
For more information, visit ArkEncounter.com/Christmas.
The Ark Encounter hopes to welcome you and your group to a faith-building and eye-opening experience this season!